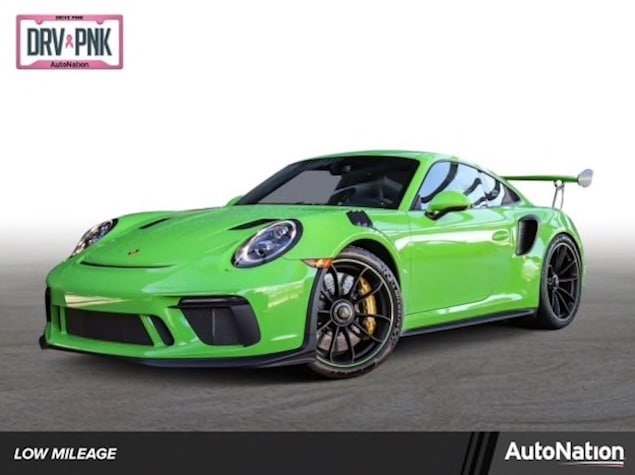 2019 Porsche 911 GT3 RS - $228,360
This pre-owned 2019 Porsche 911 GT3 RS for sale in Orange County is an incredibly low-mile example, and is one of the most sought-after Porsche cars on the market. Painted in stunning Lizard Green and featuring over $32k in factory options, this 991.2 GT3 RS simply demands attention. Inside this Porsche 911 you will find black leather and alcantara surfaces, with matching Lizard Green accents and carbon fiver throughout. The dash gauges are finished in a brilliant race-inspired white, along with a matching sport chrono clock at the center of the dash. Inside and out this 2019 Porsche 911 GT3 RS is a sight to behold.
In addition to its extensive list of available options, this GT3 RS comes standard with a 4.0L flat-six producing 520 HP. The included PDK 7-speed transmission can propel this GT3 RS from 0-60 MPH in just three seconds, and to a top speed of 193 MPH. Thanks to the optional Porsche Ceramic Composite Brake package, this car can stop even faster than it goes. With only 131 miles on the odomoter, this 2019 Porsche 911 GT3 RS is almost brand new! Click below for more information, or visit our Irvine showroom for more information.
See More Here