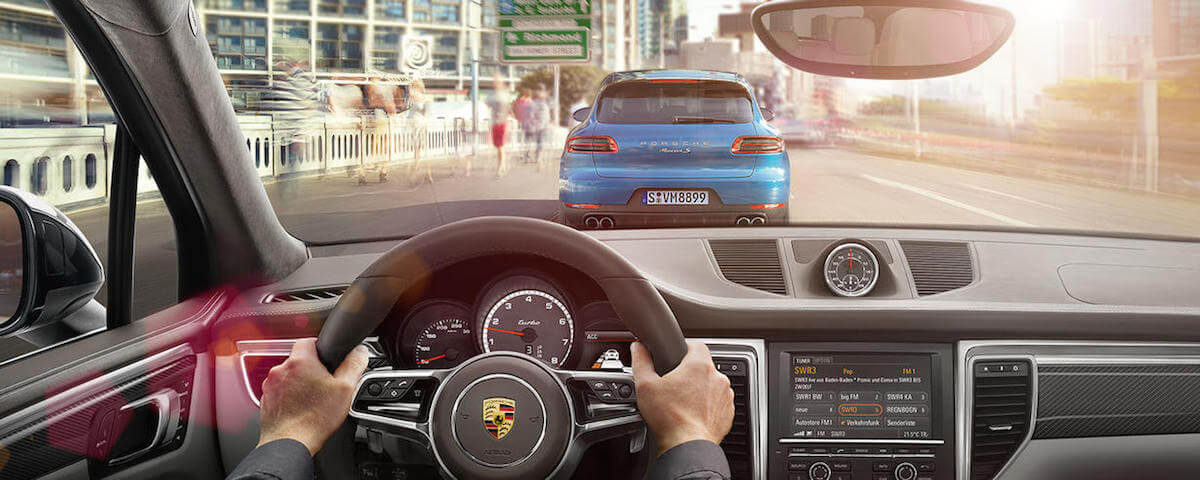 What Is Porsche Active Safe?
Porsche Active Safe, or PAS, is an advanced driver safety system designed to prevent or reduce the effects of a forward collision. By using a powerful front-facing radar scanner to detect other vehicles, Porsche Active Safe gives drivers increased protection and confidence when behind the wheel of a new Porsche.
Frontal impacts are some of the most common types of vehicular collisions, especially at intersections and in bumper-to-bumper traffic. Due to modern distractions, longer commutes, as well as adverse driving conditions, these frequency of frontal impacts has increased. To combat this issue, engineers at Porsche have developed Porsche Active Safe, an advanced driver-alert and autonomous braking system. Based on the vehicle speed and road conditions, Porsche Active Safe can intervene to help prevent or to reduce the effects of a frontal collision.
How Porsche Active Safe Works
Powering the PAS system is a long-range radar scanner, and a powerful computer processor to analyze driving conditions. By combining these two, Porsche Active Safe can detect other vehicles over 650 feet away. If the PAS system detects that the vehicle is approaching another too quickly, an audible and video alert will play, immediately notifying the driver to slow down. If the speed is higher, or the distance shorter, the PAS system may automatically apply brake pressure to preemptively slow the vehicle, giving the driver more time to react. Finally, if a collision is determined to be likely, the PAS system can apply maximum braking pressure to stop the vehicle as quickly as possible. Thanks to Porsche Active Safe, frontal collisions can be significantly reduced, making for a much safer driving experience.
New Porsche Vehicles With Active Safe
Porsche Active Safe is just one of the many cutting-edge safety technologies that Porsche has engineered into their cars and SUVs. For 2022, the Porsche Active Safe system is available as an optional extra for Porsche 911, Porsche 718, Porsche Macan, Porsche Cayenne, and Porsche Panamera models equipped with Adaptive Cruise Control. For more information about the Porsche Active Safe system, or any other exclusive Porsche technology, call us at 949-423-3005 to speak with one of our friendly and knowledgeable teammates. Be sure to click below to view our inventory of Porsche vehicles with Porsche Active Safe for sale at our showroom in Irvine.