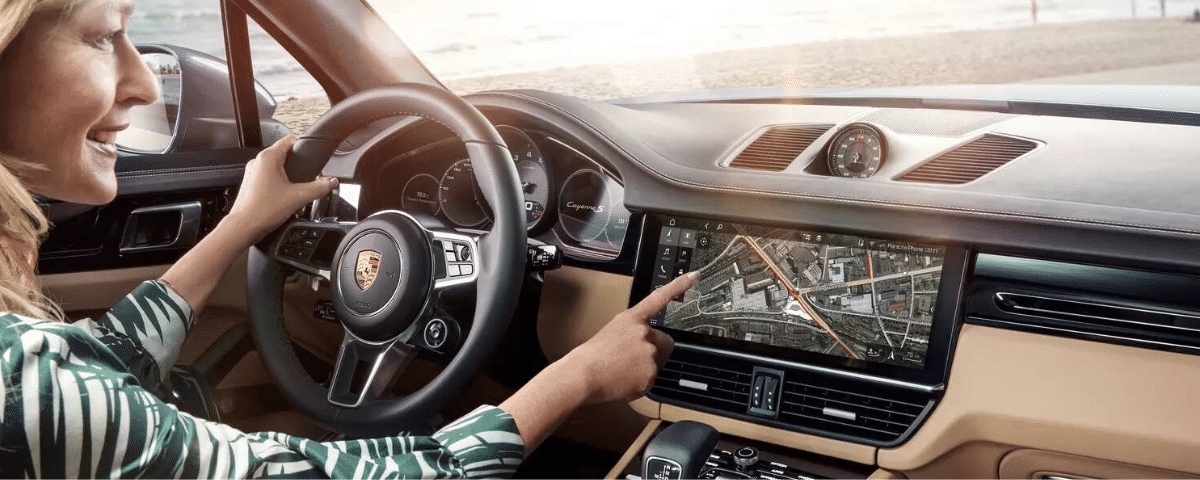 What Is Porsche Communication Management?
Porsche Communication Management, or PCM, is the central control unit for all audio, communication, navigation, and standard vehicle functions within your Porsche. The PCM system features a large high-resolution touchscreen display which makes for easy and convenient operation. Traditional infotainment systems tend to be unintuitive, slow, and lack features, which can make you want to just reach for your smartphone instead. The PCM system though offers the same ease of use and functionality as your mobile device but allows you to safely and seamlessly access its features while behind the wheel. With the customizable home screen, you can even set the functions you care about most front and center.
Porsche Communication Management Functions & Features
The Porsche Communication Management system offers a variety of functions and features connecting you and your Porsche to the world around you. Some of the PCM functions include:
Navigation: Get directions to your destination, access real-time traffic updates, or simply view a map of the area around you.
Media: Listen to AM/FM radio, satalite radio, or connect your mobile device to listen to your favorite music or podcasts.
Phone: Connect your mobile device to make hands-free calls and access your contacts while on the road.
Car: Access basic vehicle functions (seat settings, lights, digital owners manual, etc.), select your driving mode, or even adjust suspension height and stiffness.
Climate: Control the temprature and amount of airflow from each vent within the vehicle.
Apps: If you subscribe to My Porsche through Porsche Connect, you can browse available online apps such as nearby parking, fuel prices, news, flights, weather, and more.
Assist: If your vehicle is equipped with any driving assists, you can control and configure them via the PCM screen.
Hybrid (If applicable ): If your vehicle is a hybrid, you can access various information such as your current driving mode, available range, and past driving statistics.
Sound: You can completely control the balance, tone, and volume of the sound coming from the speakers in your vehicle.
Settings: Easily access and control all vehicle and PCM settings.
Learn More About Porsche Communication Managament
As the foundation for Porsche Connect and Apple CarPlay™, the Porsche Communication Managament system offers all of the features and functions you may need when operating your vehicle in an easy-to-use format. For more information on the PCM system, or any other Porsche features, feel free to contact us today at 949-423-3005 to speak with one of our knowledgeable and friendly teammates. In the meantime, browse our new inventory to find your perfect Porsche with PCM for sale in Irvine today!